Welcome friends! Today I have a fragrance review for you, a scent that I was able to try a little early thanks to LuckyScent. Presenting...You or Someone Like You by Etat Libre d'Orange.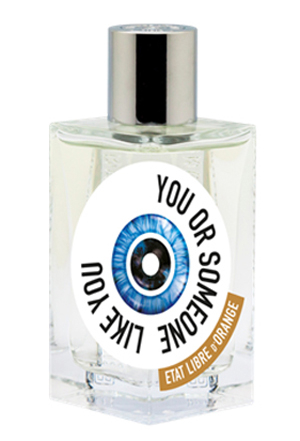 Since Fragrantica doesn't have notes listed for this, I decided to scour the internet in hopes of finding some answers. The official ELDO page for YOSLY contains the quote, "The raw materials are completely irrelevant. The work is the work. If you need to know what it's made of, don't wear it; 'You' is not for you." Now, I find this both pretentious and difficult. I get it, it's art, that's ELDO's thing. But wanting to know the notes means it's not for you? Give me a break. However, I was able to find a few notes, for those who are curious.
Specifically mentioned notes are mint and rose, and there was mention of garden herbs and grasses but nothing specific.
So, on to the actual review. I was very excited when I first put this on, as like another reviewer mentioned, it is definitely like a mojito. Upon initial application - and before I had looked up any notes - I tried to discern what I was smelling. Mint was the first thing I noticed. Cool and fresh, yet very earthy. I smelled other herbs too, perhaps something like basil or even rosemary. They were fleeting though, and just sort of morphed into a nondescript "green" smell, again very earthy. Some sort of citrus, like lime or bergamot. And that was the opening. Not too bad. It was well and truly unisex as well.
As the first hour of wear time progressed, I felt like this scent was getting much more green and earthy. The citrus was still somewhere in the background, but all of the other notes had turned into a proper herb garden. Grass, dirt, and the warmth of the earth. I could detect something floral, which I presume to be the rose. (Though there may be other flowers at work here.) What caught me off guard, though, was a gradual descent into a very synthetic scent. The official description says this contains "synthetic and natural beauty" as it is supposed to be evocative of Los Angeles, and my goodness, I couldn't agree more. To me, it smelled like Iso E Super, which I very much dislike. However, with so many "new" synthetic notes at play these days, it could be something else. Regardless, I was unimpressed with this turn of events.
To wrap things up, I'll just say a few things. Firstly, this is a true ELDO scent in the way that it is meant to be experienced, not just smelled. ELDO scents tell a story, take you somewhere, and make you think. That doesn't always mean they smell good, but it does make them interesting. While I personally did not like the end result of YOSLY, I do think it stays incredible true to its story and description. (I recommend visiting the website to give the full description a read.) So while I do not like this, I can say that I at least appreciate the thought that went into it. Is it worth trying? Absolutely! I think this is a scent that could truly work as a unisex scent, and I also think the right person could pull this off marvelously.