I am having a sleepy day at work. I work until 11, and then I have to be back bright an early tomorrow morning! Bleh.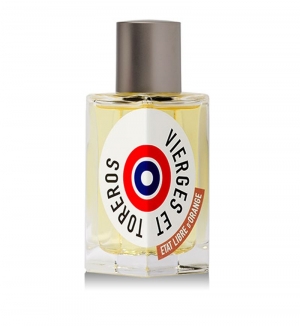 Today's review: Vierges et Toreros by Etat Libre d'Orange.
So, Virgins and Bullfighters. This name definitely intrigued me. The main notes here are tuberose, leather, ylang-ylang, and vetiver. On me, though, it was all leather and vetiver, with a bit of cardamom. Now, that's not a bad smell by any means. It smells like a very rugged, sexy man. But the lack of the other notes that should have been prominent meant this one didn't quite live up to its name. I was hoping for a leather (bullfighter?) softened by tuberose (white floral for a virgin?) or some sort of dichotomy, but it was all bullfighter. This is one for the boyfriend, not me. Very good, but not what I was looking for.