Good evening friends! There is a sale at FragranceNet and I was very good and didn't buy anything. Gotta save money to do fun stuff with Brad! We're gonna go on a freaking safari! And ride horses! I'm so excited!
Perfume of the Day: Batucada by L'Artisan Parfumeur
Notes: Lime, sea water, tiare flower, mint, sugar cane, coconut, ylang-ylang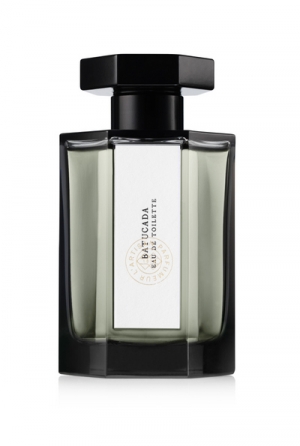 I have discovered another gem from L'artisan! Normally, lime fragrances don't work for me at all. Neither do mint fragrances! But this one is absolutely gorgeous. It's blended so well and doesn't smell synthetic in any way, and the notes all fit together so well. It's just the right amount of each one. I'm going to give this one another couple of wears but I do think I might want it in the future. I do have a solid marine perfume in Wood Sage and Sea Salt from Jo Malone, but that one is much harsher than this one. I do also have Turquatic, but that's more aquatic than marine, which is to say it's not oceanic or salty. Also, I really thought Batucada said Barracuda when I first saw it. Anyone else?