I typed June instead of July again! What month do I think this is, really?
I had a weird, stressful day today. Stress in the morning, called Brad, took a nap, felt better. Then hung out with Sarah, felt weird again (not because of Sarah), called Brad, felt better. That boy is so important to me and I love him so much, I can't even begin to tell you guys. Now I'm studying up for my night audit tomorrow night! No sense in trying to have a normal sleep schedule tonight, it's all going to hell tomorrow! And the next day! Whee! Auditing isn't actually that bad, really. There's a lot of stuff to remember, but once you get all of the important work done, it's more a matter of keeping yourself busy while you wait for phone calls (if there are any) and just staying awake and alert. The majority of the work comes in the first half of the shift, so the latter half can be a little weird. Last time I worked I did a lot of stretching and walking around to stay awake. I also received a creepy phone call and had to deal with a creepy person at the desk, so that kept me up.
Perfume of the Day: What We Do In Paris Is Secret from A Lab on Fire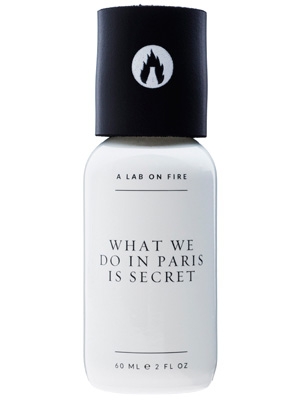 I was expecting better things from this one. In the sample vial, it smelled like a pretty harmless fruity-floral. On my skin though, it got super cloying. And cloying fruity-florals are really not something I enjoy. Luckily, the lasting power is only moderate so I was able to switch to something more pleasant afterwards. (MAC's Turquatic.) I haven't had much luck with this brand so far, which is a shame...I like their aesthetic a lot.