I can't decide what I want to watch tonight. I'm thinking Orphan Black, although I do need to catch up on FaceOff first. I watched the first season of Orphan Black last year and loved it and then didn't have time to start watching it again when the next season came out. So that's another thing on the to-watch list!
Perfume of the Day: The Afternoon of a Faun by Etat Libre D'Orange
Notes include immortelle, black pepper, orris root, myrrh, bergamot, leather, and oakmoss.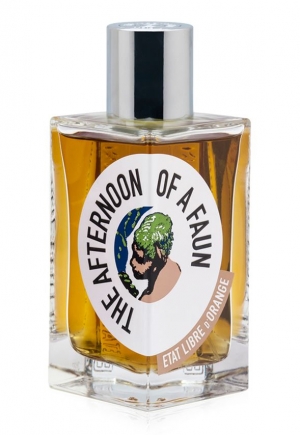 This is one of the niche perfumes I received in my LuckyScent order, and the first one I've tried! My recent watch of El Labarinto Del Fauno gave way to La Tarde Del Fauno it seems. (My apologies if that's not translated perfectly, but I think I got it right.) Anyway, about the scent! I mainly ordered this one because I was intrigued by what immortelle would smell like, and I enjoy myrrh and leather. I figured this would be a green, slightly floral/woody scent. That's what I was hoping for, anyway. But as it turns out, on me it's not so much what I expected. Black pepper does tend to stand out quite strongly in many scents I try that contain it, but based on reviews, it didn't seem like the pepper would be too dominant. I was thinking it would be earthy, perhaps masculine, but the pepper took center stage when I applied it, alongside the bergamot and oakmoss and a hint of the leather, and that's what I got. Very masculine, peppery, and only slightly green. The description for this scent is filled with words like "warm" and "balsamic" and "sweet" but I didn't get any of that. I wasn't surprised by its woodiness or earthiness, but I was disappointed by the linear nature and lack of floral and warm notes. I'll have to wear it again to give it a second go, but for now I'm not as in love as I was hoping I would be. I ordered another scent from this company though, so hopefully that one will meet my expectations! This one is good, but good in the sense that I'd rather smell it on someone else than myself, at least for now.