Hello lovely friends! I hope your week is off to a good start. Today I watched a training video about pickles. I'm still adjusting to working every day so my sleep schedule isn't quite right because goodness knows it rarely ever is, but it's been especially wonky since I've been getting up earlier than usual lately! I know it's good for me though, so I don't mind it. Plus work is going well so far!
I'm gonna give Cas some cuddles and get to bed soon, I think. I stayed up a bit late last night, so tonight I'm going to...not do that. :)
Perfume of the Day: Tainted Love by Tokyo Milk Parfumarie Curiosite
Notes include vanilla bean, orchid, sandalwood, and white tea.
I own: 50ml bottle.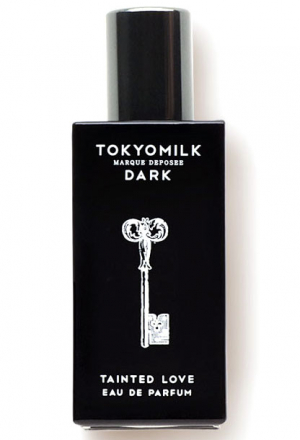 I love this gorgeous little scent. It's very simple and has very few notes, but I find it very unique and wonderful. (I really want to try some other perfumes from this line- they all look bizarre and different and super intriguing, plus the bottles are divine!) This scent is really interesting, as the notes are both dry and woody while still being warm and smooth. I don't get a prominent vanilla from this like a lot of other people do - the vanilla is so well-blended that for me it creates its own sort of scent. I can pick out and opulently warm, sweet orchid, some woodsiness, and a touch of dry, bitter tea. This fragrance is from Margot Elena's Tokyo Milk "Dark" line, and with that in mind it does make it feel a bit darker, like something a beautiful but antagonistic character in a novel or show would wear. Someone skilled with knives or poison, but still dashingly attractive. It's comforting yet keeps you on edge a bit, because it's not all sweetness. I'm a big fan of this one, and it's not expensive either. I would recommend checking this one out (the Dark line is sold at many Sephora stores), and I look forward to trying out more scents in the line - and some that aren't in the Dark line! - as well.